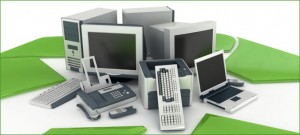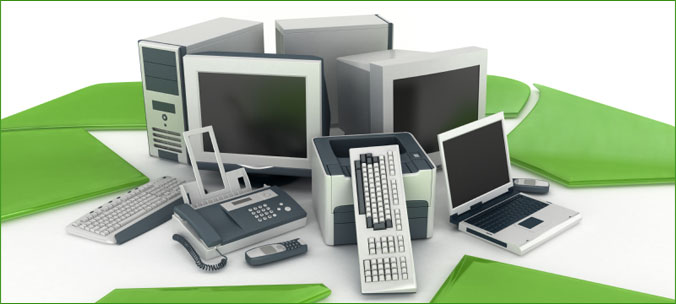 The state of Illinois now bans certain items from being thrown into a landfill, or your trash can. Because of this, CCA is your local location for computer recycling. CCA offers free recycling in Logan county and Lincoln, IL for all old computer equipment. The Illinois EPA has prepared a flyer to help educate Illinois residents on the state's Electronic Products Recycling and Reuse Act. The flyer describes the new law and contains helpful links. You can download the flyer in PDF format here.
How to Recycle with CCA
Drop Offs
We are able to provide assistance carrying in any equipment.
If you are dropping off a large amount of equipment, we ask that you please call prior to the dropoff so that we can ensure that we have someone here to help you.
What We Recycle (For Free)
If your item is not on this list, please call CCA at (217) 735-2677 to verify whether or not we can accept it
Desktop, Laptop, and Tablet Computers
Computer Components

Graphics Cards
Central Processing Units (CPU)
Motherboards
Power Supplies
RAM

LCD (Flat screen) Monitors
Printers (for large, office printers please contact us before dropoff)
Computer Peripherals (keyboards, mice, etc.)
What We DO NOT Recycle
CRT TVs and Monitors
(CRT = Cathode Ray Tubes which are the video display component found in older TVs and Computer Monitors)
– Mailroom Equipment
– Point of Sale Equipment
– Pagers
– Telephones (including PBX equipment)
– Networking Equipment and Cables
– Battery Backups and Uninterruptable Power Supplies (UPS)
– Cameras
– Camcorders
– Fax Machines
– Answering Machines
– LCD and Plasma Televisions
– Projectors
– VCRs
– DVD Players
– Video Game Consoles
– Radios
– Speakers
– Cellular/Mobile Phones
– Smart Phones
– Microwaves, toasters, and other small kitchen appliances
– Refrigerators, stoves, and other large appliances
– Walkie-talkies
– Broken TVs (broken glass or otherwise dismantled)
– Lamps/Light bulbs
– Vacuum and floor cleaners
– Toys
– Audio and Video Cassettes
– CDs and DVDs
– Software
– Carbon Monoxide/Smoke detectors
– Bathroom devices (ie. electric razors, toothbrushes, etc.)
– Gas Powered Tools
– Glass, Christmas Light Bulbs, etc
– Mercury Thermometers
– Thermostats
– Lava Lamps
– Pressurized canisters of any kind
– Live ammunition
– Needles of any sort
– Adhesives, Paints, Chemicals of any kind
– Alkaline Batteries (AA, AAA, C, D, etc…)